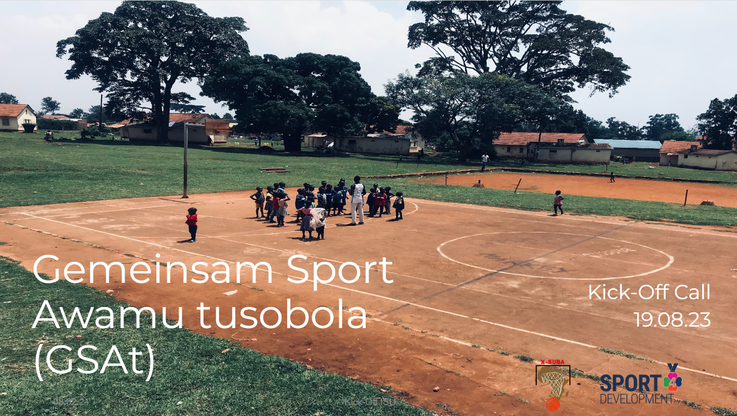 Gemeinsam Sport -Awamu tusobola
08/19/2023
On Saturday we had our kick-off meeting with the staff from @xsubasport4developmentuganda and @sport4development_ .
The day session was very interactive and motivated all of us even more for the upcoming work we will do in the inclusive sports project "Gemeinsam Sport -Awamu tusobola".
Thanks to the "Schmitz - Stiftungen and the @bmz_bund for making this possible.
---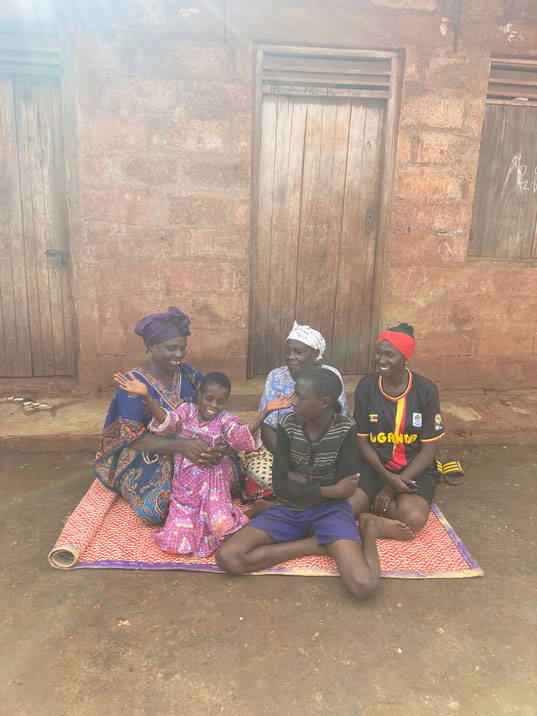 Meet Rukia
12/20/2022
"Come meet my friends! Come and meet my friends!" Those are the words that Rukia repeated over and over again, while we visited her and her family. She lives together with her siblings and her two Grandmothers in Walukuba, Jinja and was part of X-SUBAS Netball team under Coach Eunice and Coach Janet together with her brother Jonathan.
By Rukia's looks you would think she is a very young girl. But the first impression is deceiving. She is actually sixteen years old. Her Grandmother told us that the don't really know what condition Rukia has and what caused them. Was it because when she was born premature and got very sick early on she got a very strong medication? Was she already born with her conditions? The family does not know. They know that Rukia's sight is so bad she can only see bright colours, her physical abilities are extremely lower when compared with others in her age group and her mental abilities are also limited. But Rukia is an extremely bright child! Her memory is extremely good. She only has to hear a voice once and can remember the person it belongs to. You teach her a chore once and she remembers. She is also eager to learn. Just give her a paper and a pencil and she wants to write.
And on top of that Rukia has an endless love to give. The number of heartfelt hugs she gave everyone and all the minutes we all spent laughing because of her were priceless. That very much showed during the ISU-project. As well. According to Coach Eunice Rukia is a natural team player. She plays with her teammates and even encourages them to be team players too "You throw it [the ball]! Throw it!".
She has not always been so confident and happy according to her grandmother. The ISU-project played a major role in that. "It helped her improver her [physical] skills so much. She tried out something new and learned something. It gave her so much confidence that still shows". Rukia started to walk around in the community more freely. The people there know her now and are treating her respectfully.
She and Jonathan just want to start to play again since: "It was something good." to quote Jonathan.
---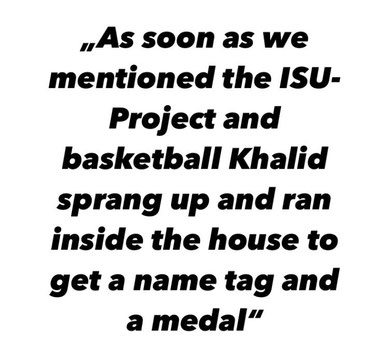 Meet Kahlid 
12/12/2022
Khalid was a happy and healthy child. But when he was seven years old, he got a malaria infection that affected not only his life but also the lives of his family. To be specific Khalid had a cerebral malaria infection.
Cerebral malaria is the most severe neurological complication of falciparum malaria and a leading cause of death and neuro-disability in sub-Saharan Africa. (Idro R et al, 2013)
There are also reports of behavioural difficulties and mental disorders in children exposed to cerebral malaria. These include inattention, hyperactivity, impulsive and aggressive behaviour that disrupts normal child development. Now Khalid is seventeen but in is mind he is still a small child. A very happy and bright child to mention that. He was also part of the ISU- project basketball team. The minute Coach Morris and I arrived at their home he came running towards Morris, hugging him and saying: "Uncle! Uncle Morris!!". He then looked at me and extended his hand with a bright smile.
As soon as we mentioned the ISU-Project and basketball Khalid sprang up and ran inside the house to get a name tag and medal. He earned this during a Special Olympics tournament in Gulu where he participated as a member of the X-SUBA team. His eyes beamed with pride. But that changed when he was asked about how he was treated in his community by other children before the ISU. It happened often that other children have teased him, provoked him and resulted in him being angry, wanting to throw stones at them. His face darkened when he was talking about these incidents and even his voice sharpened.  Not only decreased the number of incidents but Khalid also learned that violence should not be the answer for violence.
Kahlid is a young person with a wonderful charisma, love for sports and learning. He would like to become a professional basketball player or a farmer. His mother told us about Khalid's love for animals and that he often helps his grandmother with her activities in the garden and house.
But for now, just playing would make him really happy again.  
---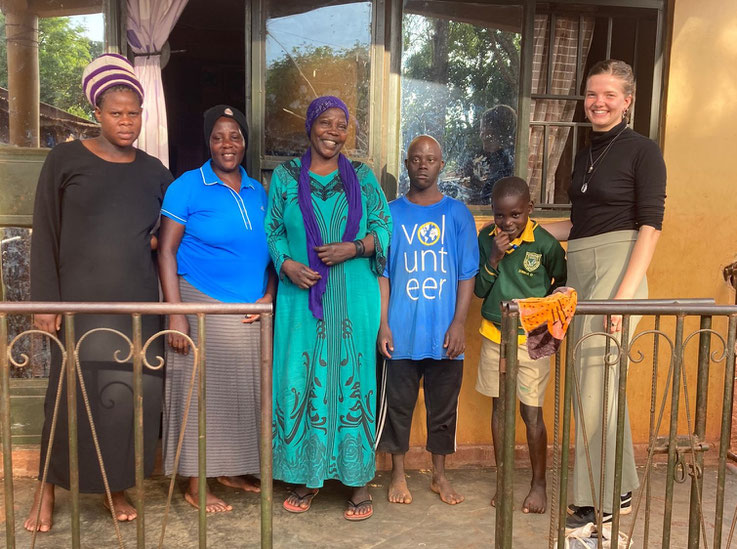 Meet Abdullah and Dauda
12/07/2022
Meet Abdullah (19), his little brother Dauda (12) and his family. Abdullah was born with down syndrome. He and his brothers participated in the ISU- project and were part of the basketball team under coach Morris and coach Steven. Before the project the mother was very concerned about it. There have been other organisations that took advantage of Abdullah because of his disability. They would come and make promises about some intervention. They planted hope but always left the family very disappointed and Abdullah very sad, since they never went through with anything they promised.
 She also feared for Abdullah's safety. There have been times where he has been assaulted and bullied from other members of the community which resulted in him staying home most of the times. Abdullah also felt a certain resentment towards other people. When he felt he was cross-eyed, he could not control his emotions, became angry and violent.
All of that changed during the project and remained till today. The mother observed so many changes in not only Abdullah's behaviour but also the behaviour of their surroundings and within herself. When she was asked about the plans for Abdullah's future, she openly said: "To be honest I do not see Abdullah anywhere in the future, simply because the nation does not provide or favour any of the people with impairments. We only feed him and let him be here (…)" She then mentioned that only some few opportunities like X-SUBA come in once in a while, which make their children feel worthy and being part of the community. Both children came home from each session being very happy and eager to tell the parents what they have learned. Abdullah grew more confident. He started to walk around more openly in the community, he is avoiding conflict and does'nt pick fights anymore, he is happy and shows the family lots of love. He even made friends that still come around to visit him. Dauda also was able to make new friends. The sport sessions showed him a way to be friends with people that he used to avoid cause they were teasing Abdullah.But they learned to respect and value each other. They still do so even though the project sessions ended earlier last year due to the COVID-19 pandemic.
Dauda's three core memories of the project are:
1)      The excursion to the Itanda falls which was a once in a lifetime experience.
2)      Experiencing everybody playing together.
3)      That even age is no boundary for showing love and playing. He saw how friendly, joyful the coaches were playing with the kids regardless of their age.
Dauda and Abdullah asked at the end of our visit when the coaches would be back and when they could start playing basketball with all their friends again. If Abdullah had his way, the sports sessions would start tomorrow. "Enkya, enkya, enkya..."
---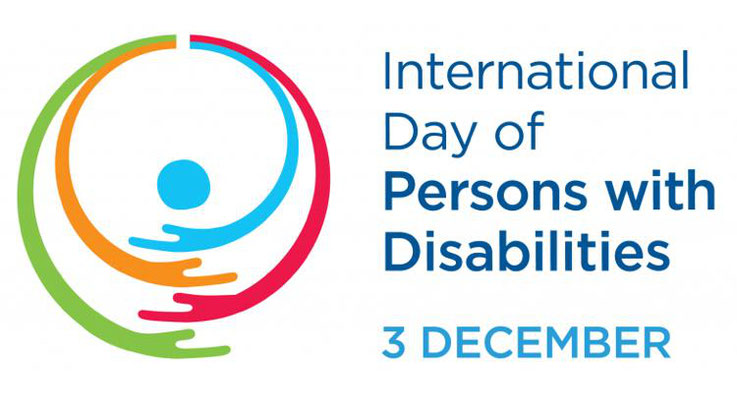 12/03/2022
In honor of the international day of People with Disabilities we will be posting a number of stories about our beneficiaries from the ISU-project that we ran in 2021 together with the organisation X-SUBA Sport4development Uganda. The project was founded by the Schmitz-Foundation and was the FIRST EVER INCLUSIVE sports project in Uganda. Uganda's disability policy is said to be one of the best in the sub-Saharan region. It is enshrined in the constitution that people with disabilities are equal and must be treated with respect and dignity. The rights of children with disabilities are also enshrined in law. However, the reality is different. Disabilities or physical and mental impairments in Uganda are often justified by religious punishments due to sins committed and disrespect for traditions/religion. Accordingly, the cause of the disability is often sought instead of trying to improve the living conditions for people with disabilities. Overall, the idea of inclusion is still at an early stage of development.
The ISU - project wanted to start there and promote the idea of inclusion through sport.
Over a period of five months, many sports sessions (netball, basketball and football) were held with a total of over 60 participants. Some of these children, as well as their siblings and parents, will feature in our articles. We wanted to share their story and the impact of the project, even though we were not able to conduct as many training sessions as we would have liked due to the COVID-19 pandemic and the resulting restrictions.